Corona and Grolsh from one tab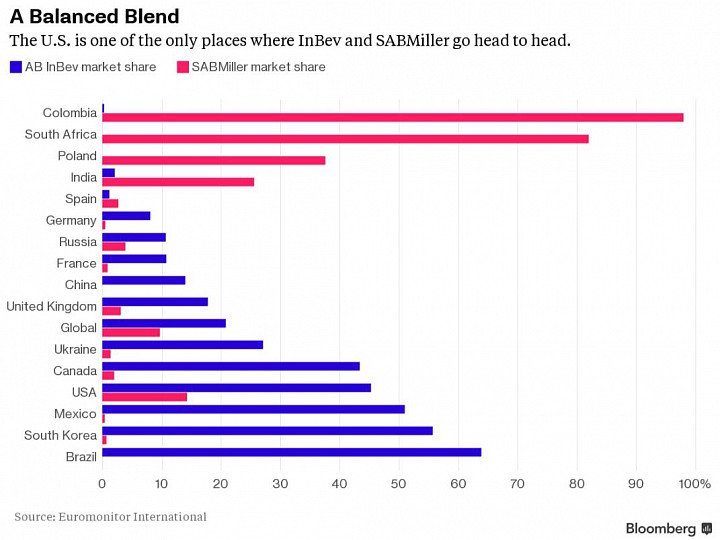 SABMiller accepted a takeover proposal at the fifth time of asking on Tuesday after Anheuser-Busch InBev, the world's largest brewer, set out a cash and share package worth 68 billion pounds ($104.4 billion).
After repeated rebuttals from its next largest rival, AB InBev said it was willing in principle to pay 44 pounds in cash per SABMiller share, with a partial share alternative set at a discount and limited to 41 percent of the SABMiller shares.
SABMiller said it had indicated to AB InBev that its board would be prepared to accept the offer and said it had asked for a two-week extension to the deadline set for its rival to announce a firm intention to bid. The new deadline is Oct. 28.
The new offer unveiled on Tuesday surpasses a Monday proposal set at 43.50 pounds in cash.
The partial share alternative remains, designed for SABMiller's two main shareholders, cigarette-maker Altria and the BevCo company of Colombia's Santo Domingo family, who own 40.5 percent of the UK-based brewer.
Were they to accept the discounted alternative and all other shareholders took cash, the offer would be worth 68 billion pounds ($100 billion).
The deal would rank in the top five mergers in corporate history and would be the largest takeover of a UK company.
The new group would brew almost a third of the world's beer, combining AB InBev's Budweiser, Stella Artois and Corona lagers with SABMiller's Peroni, Grolsch and Pilsner Urquell.
AB InBev would add certain Latin American and Asian breweries to its already large presence and, crucially, see it enter Africa for the first time.
Interestingly enough, that almost 40 percent of the global beer market is served by companies that sell fewer than 5 billion liters a year, according to Euromonitor data, while InBev and SABMiller account for 60 billion liters.
In some of the most attractive markets, however, people still prefer the local brew. In Vietnam, where the beer market is growing faster than anywhere else, one in three bottles is a "Saigon," from Saigon Beer Alcohol Beverage Corp. In India, Kingfisher is the king of beers, with close to 50 percent of the market. The Spanish like their Mahou, which has its headquarters in Madrid.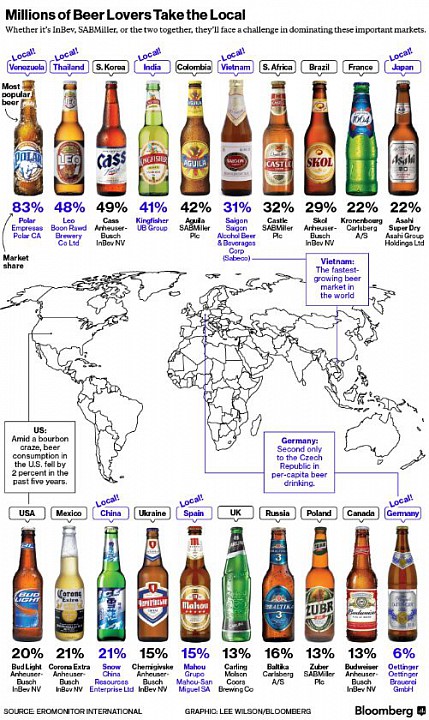 So, it can be a good diversification strategy if we buy Anheuser-Busch InBev shares and will drink local beer when travelling. If local beer is bad it will be good for price of our stocks, if not.. m-m-m... well... we enjoy a great taste of our drink. Either option will be good for us. :)